Vegas News July 31, 2023
NFL Slot Machines
Aristocrat has been very secretive about the development of its NFL slot machines. Well, they finally released a preview of the game and it looks like an Aristocrat slot machine. See the preview below and read about the different versions of the game here.
NFL slot machine 🎰 🏈 pic.twitter.com/XKAkhkO4NH

— Marc (@MeltzVegas) July 27, 2023
MGM Resorts wasn't messing around about their rewards hotel partner. In the last edition of Vegas News, we told you the MGM Rewards partnership with Hyatt was ending.
A few days after the news was posted, MGM Resorts and Marriot announced a new national hotel partnership with Marriott. Read about it here. (Also See: MGM And Marriott Make It Official: They Are Joining Forces In Las Vegas)
Expect more news about the MGM and Marriott partnership closer to its Oct. 1 launch.
Shortly after Hyatt announced it was splitting from MGM, the new owners of the Rio shared some details about the renovations of the hotel rooms that will be operated by Hyatt. Read and see more here.
Dreamscape received approval from the Nevada Gaming Commission to own and operate Rio. The 18-month renovation project begins next month. Read more here.
Another thing we mentioned in the last Vegas News was Aruze closing up shop in Las Vegas. Good news for bubble craps fans. Interblock purchased the table games from Aruze. Read more here.
A few weeks ago I mentioned how the audio at The Sphere could be a game changer. This week, the company shared more details on The Sphere's audio. Read about it here.
Surprising Turn Of Events
In a surprising turn of events, I'll be checking out U2's residency at The Sphere in December.
I've been watching F1 since the pandemic and have studied up on the business so I'm rarely surprised by any money grabs the sport takes. I'm surprised it's taken so long for someone to report that F1 is asking businesses that haven't paid a fee to have parties or grandstands to pay for views of the track. Read about it here.
There's a reason that venues on the east side of the Vegas Strip are having extravagant parties with celebrities. Read about it here.
The Monaco Grand Prix is one of the most famous F1 races. I've shared this before but it's interesting to see how the circuit is put together.
Daniel Weinman won the WSOP Main Event and took home more than $12 million. Read about it here.
Jerry Seinfeld is performing six shows at Caesars Palace next year. You can find the dates and more information here.
Speaking of Caesars Palace Las Vegas, the prices at the buffet have increased. See the tweet with the info here.
Circus Circus is undergoing some renovations and non-gaming additions. Read about it here.
Props to Circus Circus for spending about half of its renovation budget on fixing the old elevators. All casino operators should consider this when updating their property.
Two people won million-dollar jackpots playing Wheel of Fortune slots at LAS less than a month apart. See the most recent below.
There's a lot of news that ties back to the previous edition of Vegas News this week. When The Venetian announced it was going to start charging for self-parking, I wondered if other nearby casinos would do the same. Vital Vegas says Wynn will also end free self-parking. The casino hasn't announced this yet but it makes sense. Read more here.
I'm still curious to hear how Treasure Island will deal with parking fees since it's just across the street from The Venetian and Wynn.
While Wynn is on the mind, Steve agreed to pay a $10 million settlement with Nevada Gaming. Read more here.
Wynn Paradise Park and Wynn West
This reminded me about the Wynn Paradise Park and Wynn West expansions getting canceled after Wynn left the company. Read about WPP here and WW here.
Some Caesars Deals To Keep In Mind
Empire Days Sale! 🎲
Seize the day with Empire Days and score remarkable limited-time deals at participating Caesars Rewards Destinations.
Save up to 40% on hotel rooms from Las Vegas to Atlantic City.
Plus, save 25% off your next Vegas show!
Hurry, there great offers expire August 7th.

Empire Days – Caesars Atlantic City
Empire Days – Caesars Palace
Empire Days – Circus Circus Reno
Empire Days – Harrah's Resort Atlantic City
Empire Days – The Cromwell
Empire Days – Tahoe
Swingers adult mini-golf is opening a flagship location at Mandalay Bay next year. Read about it here and see the rendering below.
Make sure you google "Swingers Las Vegas" when looking for information on the new mini golf place. The second "s" is important in getting the right information.
Nevada gaming doesn't release market share information for sportsbooks so my ears perk up when I see it. The numbers aren't surprising but it's always interesting to see. Find the details here.
The Oakland A's potential move drags on with the team revealing they submitted an unrealistic stadium rendering to the Nevada government when asking for financial assistance. Read more here.
Boyd Gaming reported earnings this week. Read the press release about the financials here.
There were two useful takeaways: 1) The hotel room renovation at Main Street Station will be completed by the fourth quarter. 2) The casino renovation at the Fremont will be finished in October.
The long-rumored Kylie Minogue residency will take place at a new venue inside The Venetian beginning in November. Read more here.
The marketing behind the Barbie movie was on another level and Circa went all out.
Whataburger is coming to the Vegas Strip. Read more here.
Evidently, Pizza Rock is one of the best 50 pizza places in the US. Read more here.
It looks like table games are returning to Tuscany. Read more here.
Virgin Hotels Las Vegas has a new president. Mohegan Sun still operates the casino. Read more here.
There's a new sports bar opening soon at Boulder Station. Read more here.
Not Vegas-related but the points and miles people should know that Choice Hotels completed its deal with Radisson. Read more here.
---
Also, be sure to join the ZorkCast Group on FaceBook.
This is the Facebook group to continue the conversation from the ZorkCast podcast and TravelZork website. Feel free to start a conversation related to anything TravelZork or ZorkCast.
---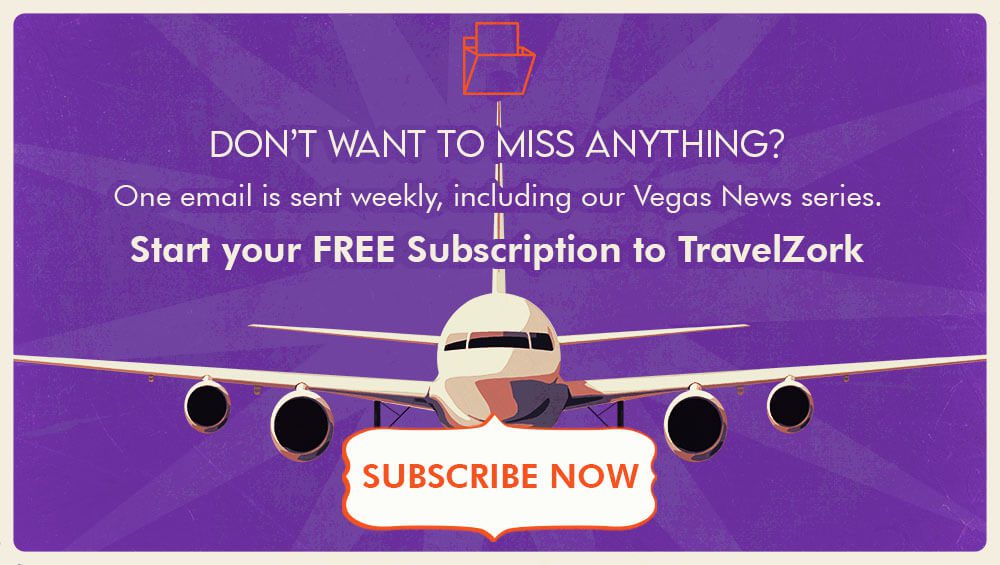 ---