Vegas News May 30, 2022
Grumblings – Transformation of Mirage And Circus Circus Renovating
Last week I mentioned that I've been hearing more grumblings that the transformation of The Mirage to the Hard Rock might take longer than expected. Well, the same source of last week's information has some specifics from a stock analyst that pretty much confirms this. Not really related, but you might have noticed our headline: Circus Circus Renovating Now? Yes, it looks like they will be renovating Circus Circus.
Mirage To The Hard Rock
"(Deutsche Bank's Carlo) Santarelli expects the property to go dark once Hard Rock International takes control in the latter half of this year, reopening under a rebranded identity … in 2025."
This Isn't As Bad As It Sounds
This isn't as bad as it sounds. The deal is expected to close by December. It should take 12-18 months to renovate the existing structure.
With no delays that would put opening around early to mid-2024. This is pretty much the timeline I've been expecting since the deal was announced. Delaying six months or so doesn't seem to be much of a big deal.
New Guitar-Shaped Tower
I'm not sure what the timeline would be for the new guitar-shaped tower would be. A delay on this part might make sense if there are financial and/or supply chain issues.
Closing the property could actually expedite the renovations. Compare the speed of the closed Hard Rock to Virgin conversion to the neverending Monte Carlo to Park MGM renovations while the property was open.
There wasn't as much work for Virgin and if it wasn't for Covid-19, it would have been reopened within less than a year. The Park MGM transformation took at least two years while keeping the property open.
In my eyes, closing The Mirage to do a full renovation should make the debut of Hard Rock in Las Vegas a better experience.
Serious Money
Unlike the transformation to Virgin, it seems as though Hard Rock International will be spending serious money (more than $200 million) to update and upgrade The Mirage.
We'll See How This All Works Out
Walking through the Monte Carlo/Park MGM monthly while the property was being changed was an awful experience. I think MGM Resorts may finally have Park MGM in the position it hoped to be in when the project was completed.
We'll see how this all works out but I'm looking forward to an entirely new experience at The Mirage. I don't expect to hear an official update for a few months so don't get too twisted about this.
For what it's worth, this blog post has some other Vegas news nuggets from Mr. Carlo S. Let's get to the rest of the Vegas News!

Las Vegas Quick Hits
Quick Hits – Circus Circus Renovating
Speaking of renovations, Circus Circus has some of its own planned for the next year or so. Don't worry, the property will still be Circus Circus just a little cleaner. Read more here.
"Circus Circus is an iconic property. We're trying to make it better than what it was. We're trying to bring it back to the glory days of when it was built in the 1950s," said Shana Gerety with SVP Operations at Circus Circus.

Shana Gerety with SVP Operations at Circus Circus
Quick Hits – Lots Of Entertainment News
The Las Vegas Convention Center will also see some renovations to the older buildings after the money was approved. Read more here.
The Las Vegas Convention and Visitors Authority released its April Executive Summary. You can see the monthly visitation data here.
One thing that stands out to me is that Hotel room occupancy in April was down 7% from 2019. However, the average hotel room rate was up 35.8% from April 2019.
Rising prices aren't shocking, but it's nice to see data that supports what we see.
The new Cirque Du Soliel show at New York-New York, Mad Apple, is now open. Read more here.
The Aerosmith residency at Park MGM is off for now. Unfortunately, Steven Tyler ​​is in rehab. Read more here.
It appears as though a Britney Spears residency at Resorts World (or anywhere) is not in the works. Read more here.
I'm not sure that anyone needs this but there's a "Sex n' The City" musical coming to Las Vegas. Read more here.
The Global Gaming Expo will take place from October 10-13th. Can't wait to see the new casino games.
There was some kind of MGM Resorts data shared online this week. Read more here.
Even More Quick Hits – WSOP Gets Underway
The World Series Of Poker gets underway this week at Bally's and Paris. This video has a lot of information for anyone new to the properties or the event.
Be prepared for a confusing summer at Bally's as Caesars transforms the property to become Horseshoe Las Vegas while still referring to the property as Bally's when necessary. You'll hear constant back and forth in the video above.
Jack Binion Steak will open at Bally's in the next month or so. I'm told there will be more information in a few weeks. Read the little information that's available here.
Top Of Binion's Steakhouse at Binion's Casino is still open.
Wayne Newton's deal at Flamingo Las Vegas was extended through the end of 2022. Read more here.
Restaurant Week begins next week and special menus are available. You can search for deals and get more information here.
The MSG Sphere was topped off. This doesn't mean anything important but you can read more here.
The WWE show in July was moved from Allegiant Stadium to MGM Grand. Read more here.
EDC tickets for next year are on sale now. Read more here.
Sand Dollar Downtown at the Plaza is now open. Read more here.
Expect traffic around the I-15 and Tropicana next time you visit Las Vegas. Read more here.
Caesars has quietly been upgrading various sportsbooks around Las Vegas. A minor refresh just took place at Caesars Palace Las Vegas. Bally's, Harrah's, and Paris Las Vegas are all seeing changes as well.
I reached out to Caesars for information on Bally's specifically and was told there will be more information in a few weeks. I'm not holding my breath. You can see a couple of Twitter updates here.
I'm not entirely sure what this hotel NFT/Stubhub article means but if it's something substantial, I wouldn't be surprised to see it in Las Vegas.
Remember those elephants coming to Resorts World I mentioned a few weeks ago? Well, they're here.
We are so excited to finally have revealed the amazing elephants in partnership with @elephant_parade!🐘 You can find them placed all over the property, stop by to check them out today. pic.twitter.com/tW1l0O6F3W

— Resorts World Las Vegas (@ResortsWorldLV) May 25, 2022
---
Also, be sure to join the ZorkCast Group on FaceBook.
This is the Facebook group to continue the conversation from the ZorkCast podcast and TravelZork website. Feel free to start a conversation related to anything TravelZork or ZorkCast.
---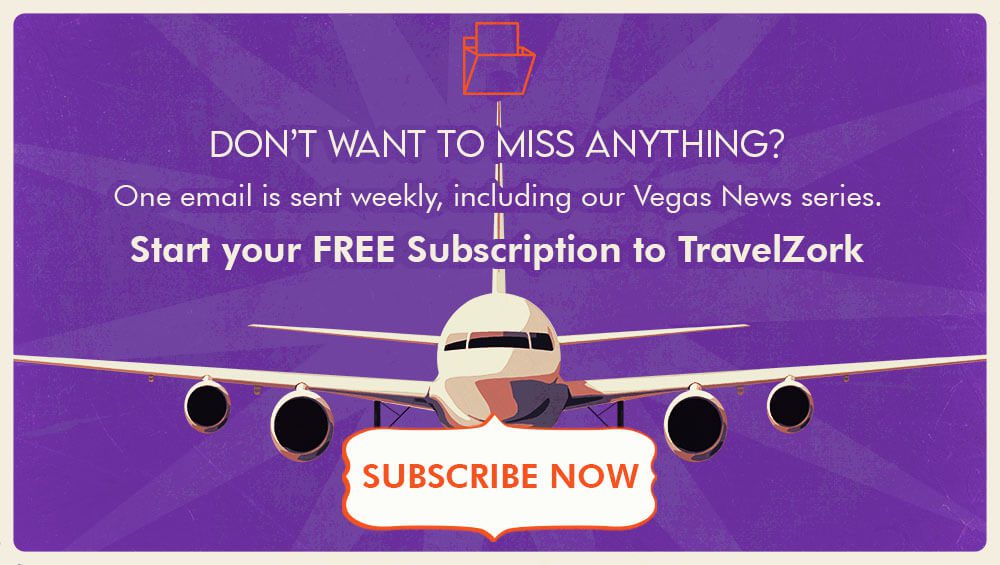 ---