Vegas News November 21, 2021
Slow News Week And WSOP Moving To The Vegas Strip
We just finished a relatively slow news week in Las Vegas, except for news about WSOP moving to the Vegas Strip. News tends to slow down in Las Vegas after the final earnings reports heading into the holidays. Day-to-day marketing mostly evolves around holiday events and sales. Side note – check your favorite property for current deals. There are plenty available.
On the business side, there's usually a slowdown as corporations are already planning for next year. Don't get too sad – there's always news in Las Vegas. We'll just move forward through the holiday season with fewer bombshells.
I made my monthly pilgrimage to The Cosmopolitan just in time for some holiday cheer. One of the highlights was going out to the Boulevard Pool to check out the scene when the skating rink opened for the first time this year. This has been around for 10 years but I've never experienced it.
Quick stop by the ice skating rink @Cosmopolitan_LV. pic.twitter.com/t7wknlf1D0

— Marc (@MeltzVegas) November 17, 2021
Ice Skating – Cosmopolitan Las Vegas
I'm not a skater so I just grabbed a drink and enjoyed the view. It was early in the evening so there weren't too many people out staking. Everyone from "lookie lou's" like me to skaters were having a great time. Everyone I encountered was having a good time.
I was happy to see the drink prices were the same as most casino bars during skating. Drinks at the rink aren't cheap ($10 for a boozy seltzer) but they could be worse. The Cosmopolitan often if not always bumps prices for concerts and other events.
Other than skating, it was business as usual at The Cosmopolitan. The big change was an east-facing view of PLANET HOLLYWOOD Las Vegas Resort. This is a strip view but there isn't a fee to upgrade like there is with a Bellagio view room.
I played slots and a lot of video poker at Chandelier Bar. As usual, there was a visit to Jaleo for Sangria Hour. This was pretty much a few days to turn my brain off after a busy year.
World Series Of Poker Crowns A Winner And Finally Confirms Move To The Vegas Strip
Koray Aldemir won the World Series Of Poker (WSOP) Main Event at the Rio All-Suite Hotel. Aldemir takes home more than $8 million in prize winnings in the last WSOP at the off-strip casino.
6,650 WSOP Participants
There were 6,650 participants this year. While not close to a record high number of entries, this was seen as a positive for the event. WSOP was a hybrid event last year mostly taking place online due to Covid-19.
This year the event was moved from its usual summer time frame. WSOP will return to its customary summertime event when it moves to the Vegas Strip next year.
The 2022 WSOP will take place at Bally's and Paris from May 31 – July 19, 2022.
A new addition next year will be Vince Vaughn. The "Swingers" actor was named as the official celebrity Master of Ceremonies for WSOP next year. Coincidentally, I just caught the end of "Wedding Crashers" on one of the cable channels.
Read more about Aldemir's win here.
Read more about the WSOP moving to the Vegas Strip here.
WSOP Moving To The Vegas Strip Probably Means Bally's Won't Be Sold
There have been rumors about Bally's being on the market for a couple of years now. During Caesars' last earnings call, CEO Tom Reeg reiterated that the company will look to sell a property in early 2022.
A couple of weeks ago we mentioned that Blake Shelton's Ole Red was being built outside of Bally's.
It seems unlikely that Bally's will be sold with the announcement that it will co-host the WSOP. It's possible but unlikely.
All of this makes a rebrand of Bally's to Horseshoe even more likely.
If this assumption (never assume, I know) is true then PLANET HOLLYWOOD Las Vegas Resort will likely be the casino Caesars makes available for sale. This is all speculation but it lines up nicely. Expect to hear more.

Las Vegas Quick Hits
Aria has a new Christmas display in its lobby. Sorry, no gingerbread house this year. Read more here.
Resorts World Las Vegas will begin charging $21 per 24 hours for valet starting Nov. 24. Happy Thanksgiving! Self-parking will remain free. Read more here.
Morning Consult polls are usually fairly accurate. I tend to take them at or close to face value. This poll says nearly 40% of business travelers think they'll never travel for work again. This seems a bit high for Las Vegas-based on recent earnings calls but it's from a source I typically trust. Read more here.
Flamingo Las Vegas is celebrating 75 years. Read more here.
Speaking of celebrations, Downtown Grand is celebrating eight years. Read more here.
MGM Resorts is teaming up with Heaven's Door Spirits to create "777 Blend" whiskey. This is a spirits company co-created with Bob Dylan. I'll give it a taste next time I'm at an MGM property. Read more here.
The Academy of Country Music Awards will take place at Allegiant Stadium on March 7. This is a huge venue for an awards show. Read more here.
Supper Clubs are officially a thing. Read more here.
There may be a new bridge on Sahara Ave. in two or three years. Read more here if you can't contain your excitement for a new way to cross a street in two years.
The Jo Bros (do people still call them that?) are opening Nellie's Southern Kitchen at MGM Grand next year. Read more here.
The guy that created the cronut is opening a bakery at Caesars Palace Las Vegas. Read more here. ​​
Carversteak at Resorts World is opening on Dec. 30. I'm pretty sure this will be the first new restaurant I visit in 2022. Read more here.
Cincinnati Bengals coach Zac Taylor sounds like some people I know. He loves to play craps in Las Vegas. Enjoy the short clip below.
---
Also, be sure to join the ZorkCast Group on FaceBook.
This is the Facebook group to continue the conversation from the ZorkCast podcast and TravelZork website. Feel free to start a conversation related to anything TravelZork or ZorkCast.
---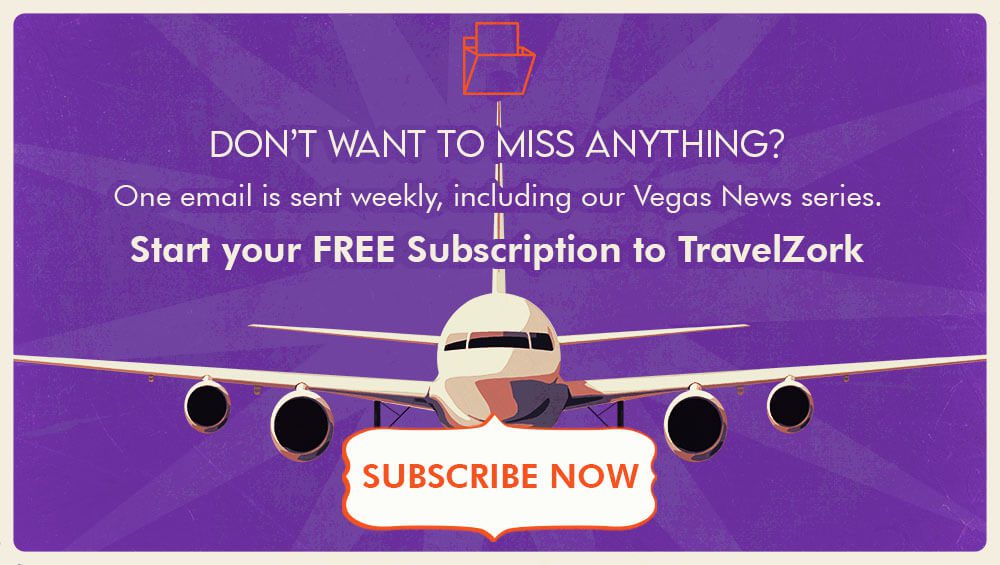 ---