Atlantic City April 2021
Atlantic City Increases Capacity
Big news for Atlantic City in April 2021, New Jersey Governor Phil Murphy has increased capacity at casinos, restaurants, and other businesses to 50 percent. Gyms and fitness clubs, as well as personal care businesses, also were included. Murphy also increased capacities for indoor and outdoor events that were nonreligious. Outdoor events that aren't religious have a limit of 50 people, up from 25.
Borgata to integrate with M life Rewards
Later this month, Borgata Hotel Casino & Spa is going to be fully integrated as an MGM Resorts International property which will allow for:
Earning tier credits for non-gaming spend (dining, hotel and more).
A better experience with M life Rewards cards working at all MGM Resorts properties.
TheBorgata.com will have a fresh, new look with easier navigation.
Express Comps balances will be simplified (MGM & Borgata Express Comps will be combined.
To implement these changes, and prepare for new promotions and events, Borgata will pause promotional offers from Saturday, April 17, to Friday, April 30, but there will be limited disruption on the casino floor during this time.
In good spirits
The Hard Rock Atlantic City Spirits Club will give participants a unique way to experience the world's most renowned distilleries in five events through Friday, June 25.
Scheduled to date are a Cherry Blossom and Sake dinner on Thursday, April 15, The Bourbon Trail on Friday, April 21, Scotch & Cigars at the Balcony Bar on Friday, May 21, and a Jack Daniel Distillery Spirits Tasting on Friday, June 25. All events begin at 6 p.m. Venues vary by event. For complete information click here.
High in the sky
Ocean Casino Resort is now offering a private, invitation-only high-limit table game experience in The Loft, an exclusive 2,000-sq. ft. luxury gaming suite.
Initially, The Loft is offering blackjack, roulette and baccarat. Located on the 44th floor, with floor-to-ceiling views of the Atlantic Ocean, The Loft features private butler service, a personal security detail, and a tailored bar with top-shelf offerings. Designed with COVID-19 health and safety protocols in mind, the suite undergoes a full deep-cleaning after each use.
Sportsbook opens at Bally's
Located by the northern Boardwalk casino entrance, the FanDuel Sportsbook's permanent location at Bally's Atlantic City Hotel and Casino is now open. As customers enter they are greeted by two large video walls and multiple betting kiosks. Inside the sportsbook is a central 25 ft.-wide state-of-the-art LED video wall, flanked by two 10 ft.-wide LED video walls on either side and 10 video displays.
Betting Windows and PlaySports Kiosks
Fans can place sports wagers at five betting windows or use one of 20 IGT PlaySports self-serve betting kiosks. FanDuel offers bets on all major U.S. sports, including professional football, basketball, baseball, tennis, MMA, soccer, golf, motorsports racing and more.
The Sportsbook Lounge features a curated food and beverage menu, with modern, pub-style fare ranging from Truffle Tots and Smash Burgers to Spicy Edamame and a Curveball Club sandwich, smothered with Basil Aioli, all accompanied by a selection of craft and local beers at the iPourIt® self-pour beverage dispenser beer wall, along with specialty cocktails.
Play for free
SuperDraft Inc., the daily fantasy platform of Caesars Entertainment Inc., has launched its SuperDraft Free SportsBook app, a free-to-play sports betting mobile app with cash prizes and Caesars Rewards.
The app complements the company's Daily Fantasy Sports offering, creating new ways for casual fans to engage with their favorite games and cash in on their sports knowledge. Using the app, fans can access a social gaming experience allowing them to make bets on their favorite sports without financial risk. Fans can compete against friends and other sports fans for cash, gift cards, prizes like consumer electronics, sports and concert tickets, and exclusive VIP experiences from Caesars Rewards.
The SuperDraft Free SportsBook utilizes a social gaming currency called SuperCoin, which is used as token currency to place free bets. When players win enough SuperCoin, they can redeem it in the in-app store for gift cards, consumer electronics, merchandise and apparel, as well as trips and vacation packages. Players also can compete to win Reward Credits.
Caesars Rewards to include Trop on April 27
If all goes as planned, Tropicana officially becomes part of the Caesars Rewards program at some point during the afternoon of Tuesday, April 27, and there will be no need to use a special "Locals" card there. (This complete program integration was originally scheduled earlier in April.)
Seven Stars renewal event set for April 17
The Seven Stars renewal event at Caesars, Harrah's and Tropicana will take place from noon to 11 p.m. on Saturday, April 17. Participants will have a choice of 10 gifts (which will be drop shipped to them), $150 in free play or 15,000 Reward Credits.
Lounging around
The Chairman's Club at Golden Nugget is now open from noon to 8 p.m. on Thursdays.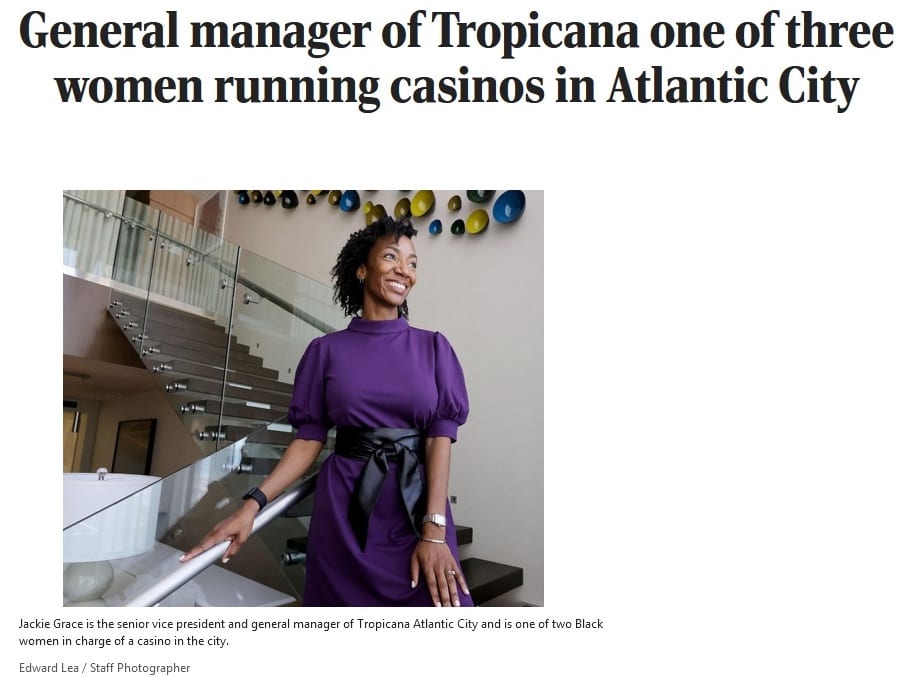 In the news: Atlantic City's female leaders
Borgata Hotel Casino & Spa President and Chief Operating Officer Melonie Johnson was profiled in last month's issue of Forbes Magazine. Senior Contributor Laura Begley Bloom described her as "a trailblazer who is one of only a handful of Black leaders in the casino space." Read the complete article here. A few days later, Forbes published
"Why Borgata Is Atlantic City's Ultimate Culinary Destination".
Jacqueline Grace, senior vice president and general manager of Tropicana Atlantic City since September, spoke with Play NJ about how the gaming industry is supporting gender equity, diversity and inclusion all year long. Grace has been with Tropicana's parent company, Caesars Entertainment Inc., for more than a decade.
She began her career in casino gaming at Bally's Atlantic City. To read a transcript of her Women's History Month interview, click here. In addition, Grace was profiled last month in The Press of Atlantic City. Click here to read that article.
Goodbye, Steve!
After more than 43 years in the casino business, Caesars Entertainment Inc. Eastern Regional President and Casino Association of New Jersey President Steve Callender retired Wednesday, March 31.
He began his casino career as a craps dealer at Resorts Casino Hotel on the day it opened in May 1978. At the time, Resorts was the only legal U.S. casino outside Nevada. In addition to his years with Caesars, Callender worked at the Atlantic City Hilton, as well as Bally's and Tropicana Atlantic City.
Puck has left the building
Wolfgang Puck American Grille at Borgata Hotel Casino & Spa has closed.
Stardust gets in your eyes
Stardust, a fixture on the Las Vegas Strip from the late 1950s through 2006, will be "resurrected" as Boyd Gaming Corp. and FanDuel Group plans to launch Stardust-branded online casinos in New Jersey and Pennsylvania. "While the resort has been gone for more than a decade, the Stardust brand is still as well-known and popular as ever," said Keith Smith, president and CEO of Boyd Gaming, owner of the Stardust brand.
In New Jersey, FanDuel plans to rebrand its existing Betfair Casino under the Stardust brand; in Pennsylvania, Stardust will be a new entry into the market. Pending final regulatory approval in each state, the Stardust casinos are expected to be ready for players this month, with apps available for iOS and Android.
Fore!
North Beach Mini Golf Club LLC has submitted plans to New Jersey's Casino Reinvestment Development Authority to construct an 18-hole miniature golf course on top of a deck that connects to the Boardwalk via a pedestrian bridge. The proposal has been drawn up by Miniature Golf Solutions, a Florida-based company that has been designing courses for more than 25 years.
The site is currently a vacant stretch of land, fronting the Atlantic Ocean, and situated next to the Altman Playground a few blocks from the Absecon Lighthouse. The 8,500-sq. ft. property sits along the northern area of the Boardwalk that was recently reconstructed to the south inlet.
The design of the course seeks to help maintain light, air and open space in the neighborhood, and will offer views of the Absecon Inlet along Atlantic City's northern end. The club will sport a natural motif that includes greenery, streams and a pond, plus a small clubhouse structure to accommodate ticket sales.
The course is slated to feature historical decorations and references within the holes' obstacles. The facility, slated to open later this year, plans to offer seasonal bicycle rentals and anticipates being open daily from 9 a.m. to 10 p.m.
PFL quarantines at Ocean Casino
The Professional Fighters League (PFL) will hold its six-week 2021 regular season in a bubble at Ocean Casino Resort beginning Friday, April 23. Fighters will arrive 17 days before their scheduled fights.
There will be daily testing, mask requirements and fighters will be kept separated until the fights, the PFL said. Fighters also will have access to training facilities, the PFL cage and a variety of meal options. The season will be a made-for-TV production with no fans expected to attend. Ocean was previously a stop in the PFL's 2018 and 2019 seasons.
Headlining opening night will be Anthony Pettis and Clay Collard. Also included on the card are Natan "Russo" Schulte, Lance Palmer, Marcin Held and Bubba Jenkins. The other events of the season will be held April 29, May 6, June 10 and June 17 – all Thursdays, as well as Friday, June 25.
Cruise news you can use
Despite a request from the Cruise Lines International Association (CLIA) to lift the order several months early, the U.S. Centers for Disease Control and Prevention (CDC) has extended its no-sail order until Monday, Nov. 1. CLIA said it believes cruise lines are ready to sail again from U.S. ports and asked the CDC to allow for a phased resumption by the beginning of July.
The CLIA also called on the CDC to update its most recent no-sail order, which has been in effect since October 2020. "The outdated CSO, which was issued almost five months ago, does not reflect the industry's proven advancements and success operating in other parts of the world, nor the advent of vaccines, and unfairly treats cruises differently. Cruise lines should be treated the same as other travel, tourism, hospitality and entertainment sectors," CLIA's President and CEO Kelly Craighead said. The CDC said it is working on updating its no-sail order.

Casino players now are eligible to receive offers directly from Carnival Cruise Line based on their tier status with any land-based or cruise line casino loyalty program. By signing up, you could be eligible for free and discounted rooms, free drinks, upgrades, free casino play and other benefits.
Eligible guests even may be eligible for free suites and balcony cabins. To qualify, complete a short registration form and upload an image of your players card from any casino or cruise line. Once you sign up, wait three to five days to see if you are eligible for one of Carnival's offers, which then can be redeemed on a wide variety of sailings. Click here.

Norwegian Cruise Line Holdings (NCLH) has extended its suspension through Wednesday, June 30. This impacts all the brands that NCLH owns, including Norwegian Cruise Line, Oceania Cruises and Regent Seven Seas. The earliest sailings won't resume until early July.
Those impacted by the NCL suspensions will receive a full refund that will be paid back by Tuesday, May 4. Guests will also receive a 10 percent coupon that automatically will be added to their account if they have not already received one. The coupon can be used on a future NCL cruise departing through 2022; however, it's only valid for one year from the date of issue.

Carnival and Royal Caribbean have suspended cruises through Monday, May 31. Crystal Cruise Line will return to cruising Saturday, July 3, and Celebrity Cruise Line will return to sailing Saturday, June 5.

The Canadian government has extended its ban on cruise operations through February 2022. The extended ban complicates cruise operators' efforts to restart sailings in North America this year, prolonging their hiatus since voyages came to a halt in March 2020 due to coronavirus outbreaks on ships. The ban had been scheduled to expire later this month.
The Canadian measure applies to cruise vessels carrying 100 or more people, Canadian Transport Minister Omar Alghabra said. "Temporary prohibitions to cruise vessels and pleasure craft are essential to continue to protect the most vulnerable among our communities and avoid overwhelming our health-care systems," Alghabra added. "This is the right and responsible thing to do." Cruises from U.S. regions such as New England and Alaska typically have stops in Canada. The prolonged ban is the latest in a string of measures by the Canadian government to clamp down on travel to and from the country in a bid to mitigate the spread of new coronavirus variants.
Although COVID-19 case counts are retreating from peaks in early January, Canada's vaccine rollout has been much slower than expected. The rate of Canadian vaccinations lags behind most advanced economies. The timing for U.S. voyages ultimately depends on receiving a permit from the U.S. Centers for Disease Control and Prevention, which is requiring operators to conduct mock sailings and apply for a certificate at least 60 days before offering passenger cruises. Like the Canadian government, the CDC discourages cruise travel.
Lounge and Parking Updates
For up-to-date information on Atlantic City players lounges and valet parking policies, visit MrACCasino.com.
Here are other "insider" tips about what's happening in Atlantic City during April:
Borgata Hotel Casino & Spa
Promotions
Earn 15X slot dollars from noon to 8 p.m. Sunday, April 4, Friday, April 9, and Sunday, April 11. Must earn a minimum of four slot dollars.

Borgata is giving away 100 to 500 Bonus Slot Dollars to five winners (one from each M life Rewards card tier) every hour from noon to 7 p.m. on Thursday, April 8. Insert your M life Rewards card into any slot machine or open a table games rating from 10 a.m. to 6:30 p.m. for a chance to win.

Details on all promotions are available at the M life Rewards Center.

Caesars Atlantic City
Promotions
Free parking – Earn 10 tier credits and swipe at any rewards kiosk to print a voucher for free parking.

Entertainment
Rob Lowe – Stories I Only Tell My Friends: LIVE! (April 24)

Golden Nugget Casino, Hotel & Marina
Promotions
Free self-parking continues.

Hard Rock Hotel & Casino Atlantic City
Promotions
Wild Card Rewards cardholders can play to earn 15X free play by playing their favorite slot machines from 9 p.m. to midnight on Friday, April 9.

Players who earned $10 in comps last month automatically qualify for a progressive drawing on Sunday, April 25.

Every 30 minutes from 2 to 6 p.m. on Saturday, May 1, nine Wild Card Rewards cardholders will win $500 in Bonus Free Play or Promo Chips and one contestant will get a chance at $100,000. At 6 p.m., two contestants have a chance to win $100,000.

Hard Rock continues its Wild Card Rewards tier match program until further notice. Details here.

Entertainment and Events
The Lobby Bar offers free live entertainment plus drink specials every Saturday and Sunday.

Motor City Live (April 3, 10, 11, 17 and 18), Cherry Blossom and Sake Dinner (April 15), Bob Saget – with special guest Mike Young (April 17), Vic DiBitetto (April 23 and 24).

Ocean Casino Resort
Promotions
New and inactive Ocean Rewards cardholders can show their players card from an Atlantic City competitor and Ocean will match that card.

Every 30 minutes from 2 to 10 p.m. on Thursdays in April, two Ocean Rewards cardholders get a chance to win $500 in free play. Activate your free entry at any Rewards Kiosk from noon to 9:45 p.m.

Black and Chairman cardholders will receive a 15X free play multiplier on Saturday, April 17. Visit a promotional kiosk from noon to 11:59 p.m. to activate your multiplier. Participants will receive 15X their earned same day free play and be able to redeem 1X as same day free play on April 17 and then the remaining 14X will be available on Sunday, April 18, and be valid for 90 days. 15X free play is valid on slot play only. Amount multiplied is based on same day free play earnings from 6 a.m. on Feb. 17 to 5:59a.m. on Feb. 18. Daily free play offer is not the amount multiplied. Same day free play will expire after 90 days of inactivity.

Ocean Rewards cardholders will receive a 10X free play multiplier on Sunday, April 25. Visit a promotional kiosk from noon to 11:59 p.m. to activate your multiplier. Participants will receive 10X their earned same day free play and be able to redeem 1X as same day free play on April 25 and then the remaining 9X will be available on Monday, April 26, and be valid for 90 days. 10X free play is valid on slot play only. Amount multiplied is based on same day free play earnings from 6 a.m. on April 25 to 5:59a.m. on April 26. Daily free play offer is not the amount multiplied. Same day free play will expire after 90 days of inactivity.

Free self-parking continues for all Ocean Rewards Club cardholders.

Visit the Ocean Rewards Club for details.

Entertainment and Events
Ocean now offers live entertainment at 6:15 p.m. every Friday and Saturday at Villain & Saint and SkyCafe.

Resorts Casino Hotel
Promotions
New and inactive Star cardholders can show their players card from an Atlantic City competitor and Resorts Casino Hotel will match that card. Plus, for a limited time, new Star cardholders will receive a complimentary room when Resorts matches your card. Visit the Promotions Booth for details.

Premiere Star cardholders who earn two tier points during a gaming day park free in the self-park garage at Resorts. Check any promotional kiosk to confirm the points and present a valid Star card at the exit.

Visit the Promotions Booth for details on all promotions.

Tropicana Atlantic City
Entertainment and Events
Live music has returned every Saturday from 5 to 9 p.m. at Tango's Lounge.

AC Jokes comedy club performs live at Kiss Kiss Nightclub nightly at 8 p.m., except Saturdays when showtime is 7 and 9 p.m. Shows last about 90 minutes. For more information and to purchase tickets visit www.ACJokes.com.
Looking ahead (schedules subject to change):
May 30: Andrew Santino, Hard Rock
Everything AC Casinos (Atlantic City)
Facebook Group
JOIN TODAY!!
---
Recreational gambler Darryl D. McEwen is the publisher of the Seven Stars Insider – both the website (SevenStarsInsider.com) and the monthly newsletter. For a free subscription to the newsletter, email him at SevenStarsInsider@gmail.com and tell him how you heard about it. You also can download the newsletter from the website where he frequently updates news about Caesars Entertainment Corp. and Caesars Rewards under "Latest News" on the Home page. In addition, be sure to follow @7StarsInsider on Twitter. Darryl also writes a bi-weekly column, Mr. AC Casino, for the Atlantic City Weekly. The companion website is MrACCasino.com and the matching Twitter account is @MrACCasino. A former professional journalist, based in Wilmington, Delaware, Darryl is president of his own consulting firm that manages several small national and international trade associations, and provides public relations and fundraising services for a number of charitable organizations.
---