I finally visited the completely renovated Park MGM Las Vegas. I saw construction at the former Monte Carlo monthly over the past two-plus years. This was my first visit to the property with construction complete (for now). For context, my visit happened the day after Mama Rabbit (home of the 5% surcharge on drinks) opened.
Finally, there was no more construction at Park MGM. I love visiting new casinos. I hate watching construction on casinos. Even more, I detest repeatedly walking through a construction zone like I did for around two years.
Looking Back – From December 2017
Las Vegas | Park MGM Is Coming Together Nicely
Patiently Waiting for Park MGM Las Vegas
During the renovations, I had a monthly gig that was recorded at Sake Rok for more than a year. I visited Park MGM Las Vegas often so I could share progress updates. While interesting, the partially completed Park MGM always reminded me how much I hate the process. I just wanted the finished product and now it's here!
After that gig at Sake Rok ended in December 2018, I stayed away from Park MGM until all the work was complete. Well, I finally made my first trip to Park MGM and it turned out the way I expected.
I like Park MGM but I don't love it. I'll definitely return but that would be to show tourists the new look and try the new restaurants. I've heard great things about Best Friend. The Monday night AYCE deal might be what gets me back to Park MGM sooner than later.
Walking Through Park MGM
I entered the casino from the parking garage so my tour started at the hotel lobby. It looks the same as it did during construction with one exception. I'm glad to see they rearranged the self check-in desks.
There's much more room to navigate and multiple staffers on hand to assist if needed. There were people inside Primrose and the lobby was busy for a random mid-week afternoon.
NoMad Las Vegas
I ventured towards the casino and peeked in on the NoMad space. The bar and restaurant appeared to be closed. The hall to NoMad is dark and uninviting. The sign above and a slot machine installation near the main casino were the only areas with decent light.
No wonder MGM is having trouble luring visitors from T-Mobile Arena. First, the exterior signage isn't alluring. Second, this dark hall is creepy. I wouldn't want to walk through this to get to the casino.
Having said that, I like the design but it just doesn't seem like it's made for the average tourist. I think we might see some changes here to make the walkthrough to the main property more inviting.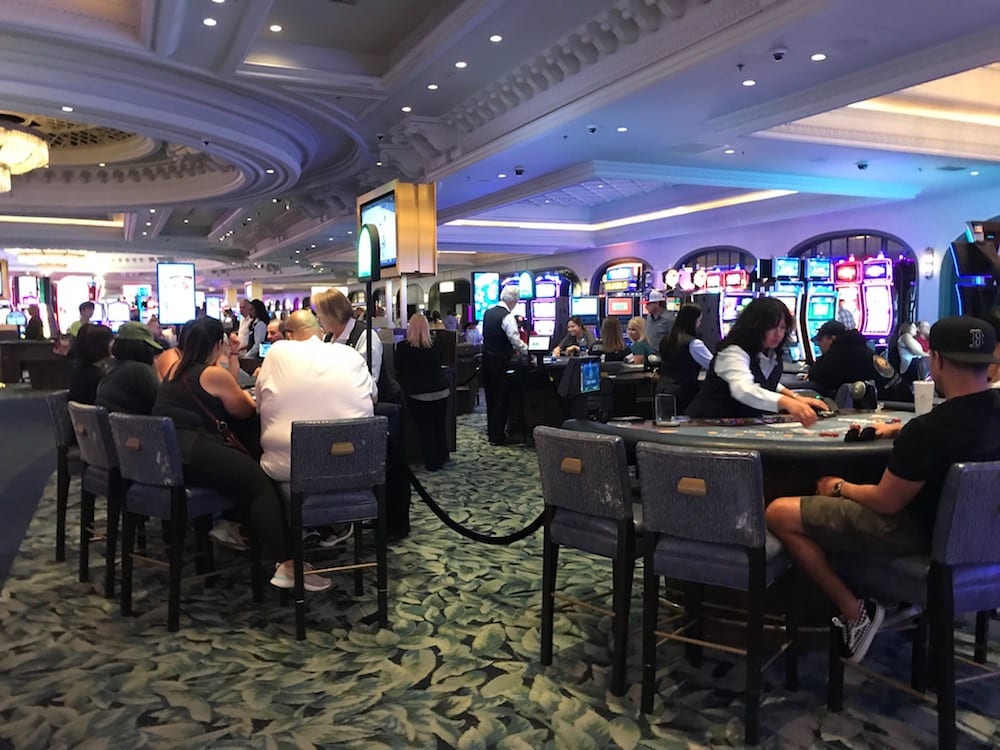 Casino Flow – Park MGM
I like the flow of the casino floor now that it's finally laid out. There are numerous gaming spaces throughout the casino. There are small table game pits, small slot machine areas, and electronic table game areas plotted on the casino floor.
These spaces make for more intimate gaming areas. We're seeing this design in some newer casinos. This is different than the massive older casino layouts like MGM Grand or The Palazzo.
I find it more appealing to see smaller closed gaming areas than 3/4 of the table games in a massive pit. Despite the intimacy, there's more energy and bigger buzz in the smaller parts of the casino that are open.
Even though the number of players might be the same the larger layouts feel more boring. I'm more apt to spend time in a casino that feels like more people are having fun.
The Moneyline sports bar and book was renovated for football season. In case you're wondering why it's empty, the main bar area doesn't open until 4pm daily.
The first thing I noticed is that the billiards room has been removed to make way for the cocktail tables and larger betting area. The main improvement to Moneyline is subtle – bright lights.
The original Moneyline sports bar and book felt closed off and dark. This is still more of a bar/restaurant than a traditional sportsbook. I like it better than before but it's not a destination sports book to me.
I'm a size king when it comes to sports books. I prefer massive screens and viewing areas like the sports books at The Mirage, Red Rock, and Westgate.
Heading towards Eataly I passed Mama Rabbit, Lala Noodle, and a randomly placed Fortune Cup game. It seems like bad placement for this game, but what do I know. Maybe people want to play with horsies after eating and drinking in the fancy food court.
I've heard mixed reviews about Eataly but I loved the vibe for the short time I visited. My plans for lunch fell through so I didn't hang around as long as expected.
Even though Eataly has something for everyone, I don't think it's a place for all visitors to Las Vegas.
It's a fancy food hall with stations for just about any mood. The problem for some will be the fancy part. There aren't any deals. Prices are a bit higher than a traditional food court.
This isn't a reason for everyone to stay away. The food and drink might be worth the money to some people but not for everyone. Sometimes a quick meal or drink doesn't have to be fancy.
Other Observations
Park MGM Las Vegas is certainly geared towards a younger customer. There are numerous locations to take pictures to share online (not on the line). This cardboard cutout of a hockey player is outside of the sports book. It's not difficult to imagine drunk bros leaving a Vegas Golden Knights hockey game posing for pics here.
There are signs like the NoMad with the grass wall around the casino. There's actually a "park mgm" (lower case) sign across from the hockey player above. These signs are a good use of blank walls. Of course, it's also a good way to promote the property.
During MGM Resorts earnings calls, they've indicated that casino earnings and players club play at Park MGM are below expectations. Promotions like this could help.
Park MGM has signage with gambling promotions around the casino. They're also using their mailing list to encourage gambling. I've received quite a few emails with bonus points offers just for Park MGM.
Learn More
Living the Mlife: An Introduction – MGM M life Rewards Loyalty Program
Overall, I like what Park MGM has become. The transformation is quite remarkable from Monte Carlo. I had plenty of fun times at Monte Carlo but I'll never miss anything besides the sports book. That was a hidden gem.
I probably won't hang at the Park MGM sports book much. I wouldn't say no to a trip to hang out at Park MGM. I think I'll enjoy the vibe of the casino and variety of dining at Park MGM Las Vegas.
Park MGM isn't a casino for everyone, even though it could be. The price points are on the high side for a non-luxury property. I wouldn't say no to a visit here but if I'm paying $20 for a fancy cocktail, I'd probably rather be at the Cosmopolitan, Wynn, or Encore.