Vegas News March 14, 2023
Las Vegas Grand Prix Update
Yep, another Las Vegas Grand Prix Update. There's a large international following for F1, and the sport fascinates me. The intrigue is as much off the track as it is race related. The business angle is particularly interesting – especially as it relates to Las Vegas.
Last week, F1 announced that more tickets for the Las Vegas Grand Prix will go on sale to the public on March 24. Similar to the last batch there will be a presale available. Some will be able to buy tickets as soon as March 20. Read more here.
Renderings – Las Vegas Grand Prix Update
Some more renderings for the race circuit (track) were released with the ticket information. You can see one above and the rest here. No, the race won't look like a computer simulation in real life. Evidently, not everyone understands this so I guess that needs to be clarified.
The Las Vegas Convention & Visitors Authority (LVCVA) would like to buy $7 million worth of tickets for the race. Read more here.
The renderings make me wonder if The Venetian and neighboring casinos start charging for event self-parking like the properties near T-Mobile Arena and Allegiant Stadium when MSG Sphere opens. Keep an eye on this if paying to park matters to you.
I'm not sure if I shared this video before but the process of F1 building a street course is fascinating. Enjoy it below.
Let's get to the rest of the news in and around Las Vegas.

Las Vegas Quick Hits
CHICKEN GUY!
CHICKEN GUY is the second-best quick-serve restaurant name in Las Vegas behind JACK POTS at Circa. The new Fieri spot at Caesars Palace Las Vegas food court will open this summer. Read more here.
Siegfried and Roys home is sold! That was quick. Read more here.
The Vegas Loop is a step closer to connecting UNLV after a land deal was completed. The stop is slated to be open sometime next year. It should be noted that there are currently two stations open of the 69 planned. Read more here.
The LVCVA might sell the Riviera land. Read more here.
Zappos Theater at PLANET HOLLYWOOD Las Vegas Resort will have a new name soon. Read more here.
Bakkt Holdings is a crypto company. Don't be surprised if there's another announcement about the theater name sooner than later.
Flanker Sports Bar will open in June at Mandalay Bay. See renderings and read more here.
This blog quotes stock analysts saying that there's a bull case for Las Vegas casinos. Read about it at the bottom of the post here.
While demand is high, I've been seeing relatively lower demand for Super Bowl and March Madness watch parties. Some properties started offering discounts for March Madness parties. Attendance for this event will be different this year, with the CON AGG Expo taking place at the same time.
Perhaps we hit an inflection point in pricing with so many events taking place. Stock analysts don't have eyes on the ground and are typically reactive, not proactive in this market. This is something I'm keeping an eye on as I look forward to economic changes in Las Vegas.
It's pool season in Las Vegas! The LVCVA has a solid list of dayclubs if you're looking for an afternoon party. Check it out here.
Golden Entertainment, the owner of The Strat, sold its Nevada slot route business to focus on its retail businesses. Read more here.
Shrooms might become legal in Nevada. Read more here.
AEW rasslin' is returning to Las Vegas for three nights in May. Read more here.
It looks as though Adele might have her residency at Caesars Palace Las Vegas extended. Read the tweet here. Also, more here via Vital Vegas: Adele Expected to Extend Caesars Palace Residency.
Nevada Rep. Dina Titus is trying to raise the W2G threshold to $5,000 and will index to inflation so that the amount will always change with the financial times. Read more here.
Gene Simmon of Kiss is hosting a three-day event at the Rio All-Suite Hotel in May. Two days are sold out already. Read more here.
---
Also, be sure to join the ZorkCast Group on FaceBook.
This is the Facebook group to continue the conversation from the ZorkCast podcast and TravelZork website. Feel free to start a conversation related to anything TravelZork or ZorkCast.
---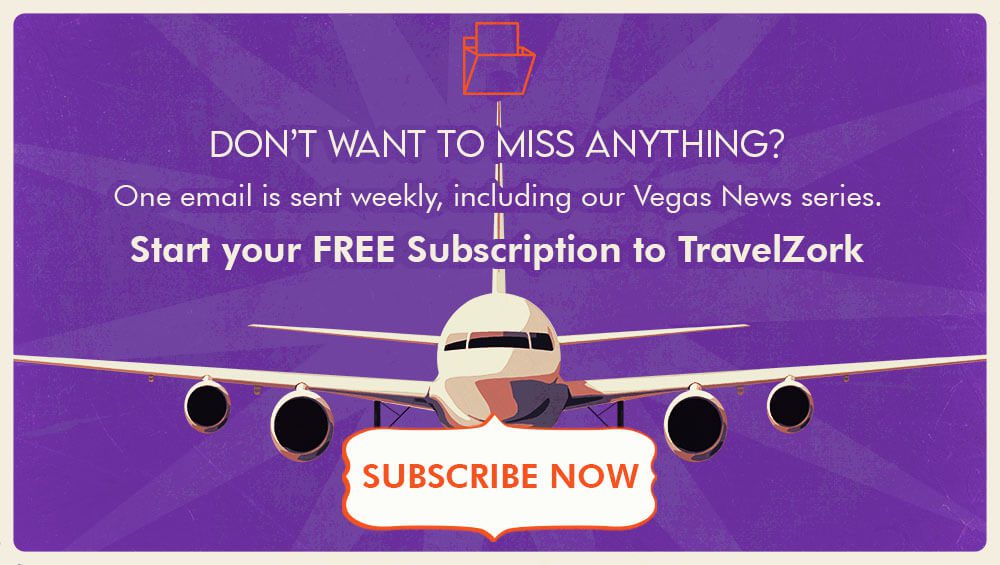 ---